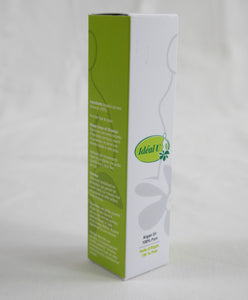 Description
ArganOil is rich in vitamin A and vitamin E, packed with omega-6 fatty acids and antioxidants. The vitamin E promotes the cell production that improves the skin condition as well as nourishing it in depth. In combination, all those ingredients are beneficent for the skin – they ease the inflammation and moisturize the skin!
Argan Oil is not only beneficial for your skin but for the hair too. Its non-greasy consistency makes it a perfect deep-conditioning treatment as well as a day-to-day hair repairing treatment.
Apply twice a week as a deep nourishing mask for dry and damaged hair to repair split ends and apply it to the scalp to promote the hair growth.
Apply to the hair ends after every blow-dry or straightening to keep them nourished and silky. Just get few drops on your hands, warm it up in your palms and brush it through the hair.
Apply few drops with light circular motions on your skin every morning and evening to nourish and moisturize the skin.