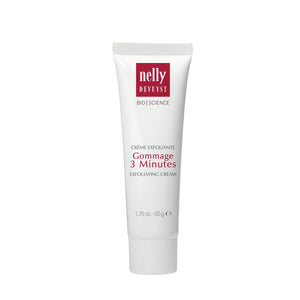 The Nelly De Vuyst® 3 Minute Gommage is an exfoliating cream suitable for all skin types. It removes all traces of dead cells and impurities that accumulate on the surface of the skin. Regular use helps reduce the appearance of irregularities and opened pores while improving the aspect of the skin's texture for a radiant and healthy complexion.
Concerns & Conditions

The Nelly De Vuyst® 3 Minute Gommage is suitable for all kin types including thick skin showing no signs of redness.
How To Use

Apply a layer of 3 Minute Gommage on the face, neck, eyelids and lips. Wait 1 minute. Using fingertips gently massage skin to promote exfoliant to roll-off, removing any dead cells and impurities. Rinse with warm water and pat dry. Finish with the Nelly De Vuyst® Toner and the appropriate Nelly De Vuyst® products for your skin type.
Key Ingredients 
Birch Extract
Geranium Extract

Bisabolol