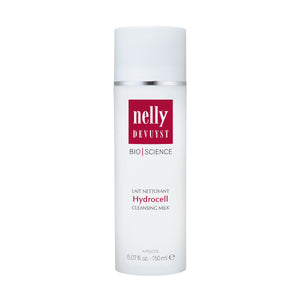 The Cleansing Milk Hydrocell contains ingredients to thoroughly and gently cleanse the skin while respecting the quality of the hydrolipidic film. Its light and creamy texture is ideal to help remove impurities and all traces of makeup. Can be used on the eye contour, face and neck. It will leave the skin feeling clean, refreshed and moisturized.
Concerns & Conditions

The Nelly De Vuyst® Cleansing Milk Hydrocell is suitable for all skin types including dehydrated, sensitive and irritated skin.

How To Use

For daily use, morning and evening.
With a dry cotton pad apply to face and neck to cleanse the skin, rinse if necessary. Finish with the Nelly De Vuyst® Toner and the appropriate Nelly De Vuyst® products for your skin type.

Key Ingredients 

Sweet Almond Oil

Hazelnut Oil
Aloe Vera Extract