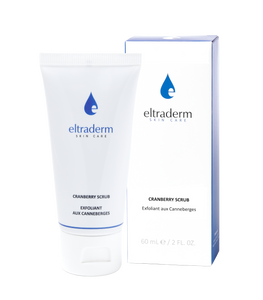 Our refreshing Cranberry Scrub polishes and refines the skin to stimulate cell turnover and reveal lustrous, invigorated, smooth skin.
 
This exfoliating facial scrub boasts antioxidant properties which promote skin cell regeneration and protect against free radicals. Featuring a blend of Cranberry, ultra fine Sea Salt Extract, and Sunflower Seed Oil, this exfoliant helps restore vitality for healthy-looking, radiant skin.
 
Ideal weekly care for normal to dry skin types, non-sensitive, rough, dull, or blemished skin.
Notre Exfoliant aux Canneberges affine incroyablement la peau et stimule le renouvellement cellulaire. Telle une mini microdermabrasion, la peau révèle tout son éclat.
Ce gommage exfoliant pour le visage possède des propriétés antioxydants qui favorisent la régénération des cellules de la peau et protègent contre les radicaux libres. Composé d'un mélange de canneberges, d'extrait de sel marin ultra fin et d'huile de graines de tournesol, cet exfoliant restaure la vitalité pour une peau d'apparence saine et radieuse.
Soin hebdomadaire idéal pour les peaux normales à sèches, les peaux épaisses, rugueuses, ternes et irrégulières. Éviter sur les peaux très sensibles.