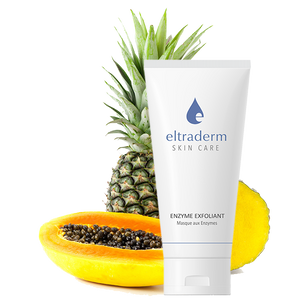 Our Enzyme Exfoliant blends natural fruit enzymes, papain (papaya) and bromelain (pineapple), to deliver a soft, yet effective enzymatic exfoliation, ideal even for the most sensitive skin conditions.

This gentle exfoliant dissolves dead skin cells on the surface of the skin to reveal more radiant skin. The enzymatic action of these key proteolytic enzymes accelerate the skin's natural exfoliation process by gently digesting the keratinized protein layer around aged or damaged skin cells. Essentially, the breakdown of accumulated dead or damaged skin cells helps to stimulate the production of healthy fresh skin cells.


Notre Exfoliant aux Enzymes combine des enzymes naturelles provenant des fruits ; la papaïne (papaye) et la bromélaïne (ananas), pour offrir une exfoliation enzymatique douce mais efficace.
L'Exfoliant aux Enzymes dissout les cellules mortes à la surface de la peau pour révéler une peau plus radieuse.
Grâce à l'action des enzymes protéolytiques, le processus naturel d'exfoliation de la peau est accéléré. En activant la dégradation des cellules mortes accumulées, la production de nouvelles cellules jeunes et saines est stimulée.
Utiliser une fois par semaine pour la plupart des types de peau.