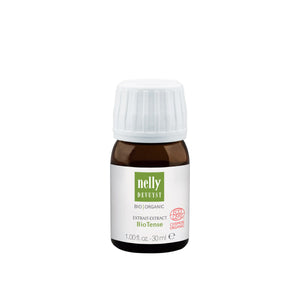 The Extract BioTense is specifically formulated to meet the needs of mature, devitalized and dry skin. Its synergy of moisturizing, repairing and regenerating plant extracts helps to preserve the hydrolipidic film balance.
Concerns & Conditions

The Nelly De Vuyst® Extract BioTense is suitable for dry, damaged and chapped skin. Also ideal for mature and devitalized skin. Can be used for burns or recent scars as well as stretch marks.
How To Use


For daily use, morning and evening.
Apply a few drops locally morning and evening. Perform a gentle massage. Finish by applying the appropriate Nelly De Vuyst® treatment cream.
Caution: Do not use during pregnancy.
Key Ingredients 
Argan Oil
Avocado Oil

Coconut Oil

Vitamin F

Vitamin E

Complex of Stimulating and Toning Essential Oils (Coriander, Ginger, Bergamot and Verbena)