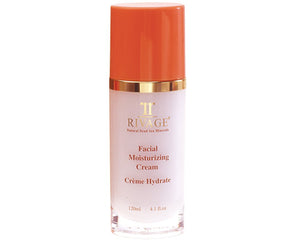 Details:
RIVAGE Facial Moisturizing Cream with Collagen helps to eliminate the appearance of fine lines and wrinkles while providing hours of luxurious, hydrating coverage. This remarkable formula combines the mineral-rich ingredients of the Dead Sea with the all-natural powers of Aloe Vera. RIVAGE Facial moisturizing Cream replenishes the skin's natural moisture and elasticity, returning skin to its intended tone and smooth, supple glow.
Bottle 120 ml

Treatment:
Apply cream on your face and neck after cleansing with gentle massaging until completely absorbed.
Suitable to be used at night or day for normal and dry skin.