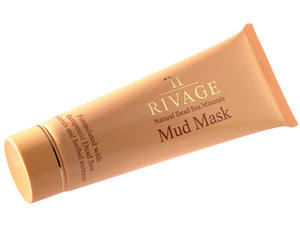 Details:
Facial Mud Mask for all skin types - Plastic Tube. Purifying Dead Sea facial mud mask formulated to firm and boost cell renewal while hydrates and rejuvenates dull skin by lifting impurities and gently pulling out toxins from the skin. Leaving your skin fresh. supple with healthy looking complexion.
120 ml

Treatment:
Clean the face with RIVAGE Liquid cleanser or Black Mud Soap. Apply Mineral Toner to prepare the skin to accetp the minerals from the mud. Apply a thick, even layer of Facial Mud Mask to the face and neck using a facial brush of fingertips, carefully avoiding the delicate areas around the eyes and mouth.
After 25-30 minutes, when the mud is dry, rub off with fingertips in circulatar motion to exfoliate the skin. Wash the face and neck area with warm water to remove any mud residue, then apply Mineral Toner followed by RIVAGE moisturizer.
This product may be used twice weekly.