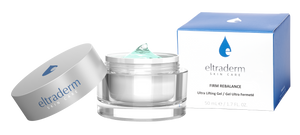 An exclusive blend of Soluble Hydrolyzed Elastin with Lipodipeptides, Micro Molecular Weight Hyaluronic Acid, and Advanced Hydrating Factors to increase skin elasticity and restore the skin's tone and firmness.

Firm Rebalance Ultra Lifting Gel is enriched with Elastin Stimulating Lipodipeptides which help promote the synthesis of elastin and other proteins related to its formation. Micro Molecular Weight Hyaluronic Acid encourages fundamental hydration. Advanced Hydrating Factors, which replicate the skin's Natural Moisturizing Factors, deliver exceptional moisture content and turgescence to the skin.

Ideal for daily care and variety of post-procedures, especially laser services and skin tightening treatments.
Un mélange exclusif d'élastine hydrolysée soluble avec des lipodipeptides, de l'acide hyaluronique de poids micromoléculaire et de Facteurs Hydratants Avancés pour augmenter l'élasticité de la peau et restaurer le tonus et la fermeté de la peau.
Firm Rebalance Gel Ultra Fermeté est enrichi de lipodipeptides qui stimulent l'élastine ce qui aide à stimuler la synthèse de l'élastine et d'autres protéines liées à sa formation. L'acide hyaluronique de poids micromoléculaire favorise l'hydratation fondamentale. Les Facteurs Hydratants Avancés apportent à la peau un taux d'hydratation et une turgescence exceptionnelle.
Idéal pour les soins quotidiens et après divers traitements, en particulier le laser, peeling etc.