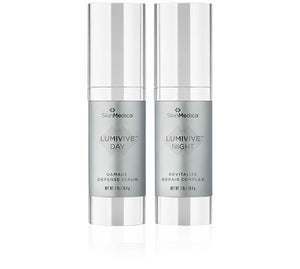 Description
This two-step system gives your skin more power to resist the environment's attack during the day. and recover itself overnight. With full atmospheric protection against blue light and pollution, you may see truly RADIANT skin in as few as 14 days1.
Appropriate for all skin types and tones.
System Includes:
LUMIVIVE™ Day Damage Defense Serum
LUMIVIVE™ Night Revitalize Repair Complex
Key Benefits
Recharges skin overnight: Improves the skin's ability to actually repair itself at night.
Defends all day long: Against pollution and blue light aggressors during the day.
Amplifies any skin care regimen: Complements new and existing skin care regimens.
Groundbreaking Technologies


Not your mother's vitamin C
New ENVAILLE™ technology1
exclusively from SkinMedica®
The power behind LUMIVIVE™ DAY Damage Defense Serum engages the dermal bio-barrier specifically formulated for blue light and pollution protection
Theobroma Cacao Seed Extract
Alteromonas Ferment Extract
Bioflavonoids
Tired of empty promises for "glowing skin"?
New ENVIGORATE™ technology1
exclusively from SkinMedica®
The power behind LUMIVIVE™ NIGHT Revitalize Repair Complex helps the skin rapidly recover overnight to give you that glow
Mitoquinol Mesylate
Mirabilis Jalapa Callus Extract
Pentapeptide-34 Trifl uoroacetate