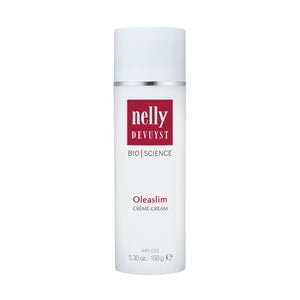 Ideal for people predisposed to cellulite.
The Oleaslim Cream is ideal for people prone to cellulite and water retention. Formulated from Fucus and essential oils of cinnamon known for their draining, detoxifying and slimming properties, this moisturizing body cream combats the appearance of orange peel caused by cellulite. Its silky texture provides an immediate sensation of freshness. Ultra-moisturizing*, Nelly De Vuyst® Oleaslim Cream improves the texture and suppleness of the skin. Promotes a firmer and smoother looking skin. An ideal home treatment to fight against cellulite.
Concerns & Conditions


The Nelly De Vuyst® Oleaslim Cream is suitable for cellulite, unsightly fat deposits and loose skin.
How To Use

Apply the Nelly De Vuyst® Oleaslim Cream after a shower or appropriate Nelly De Vuyst® Bath.
Tip: Before application, exfoliate skin with NDV Body Brush brushing vigorously in the direction of blood flow. Then, perform a massage with the Nelly De Vuyst® Oleaslim Cream until complete absorption.
Key Ingredients 
Fucus Extract
Essential Oils Of

Lavender

Verbena

Lemon Peel

Cinnamon

Mint

Mandarin Peel

Orange Peel

Cypress

Cistus