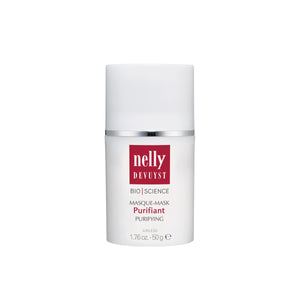 The Purifying Mask is recommended for combination, oily and impure skin presenting acne symptoms. Rich in detoxifying seaweed and antiseptic essential oils, the Purifying Mask is ideal for preventing and reducing the appearance of T-zone shine, blackheads, paupules and pastules. Right after the first use, the skin feels immediately fresher and reveals a healthy, bright appearance, the pores are refined.
Concerns & Conditions

The Nelly De Vuyst® Purifying Mask is suitable for dull, loose, intoxicated skin. Also ideal for combination skin and acne skin.
How To Use

Once a week or as needed, apply the Purifying Mask on clean skin. Leave on for 10 to 15 minutes, then rinse and dry. Apply appropriate Nelly De Vuyst® Toner and Nelly De Vuyst® treatment products for your skin type.
Key Ingredients 
Hop Extract
Fucus Extract

Essential Oils of Lavender and Peppermint