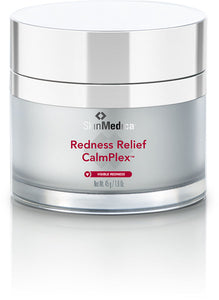 Description
A moisturizer clinically shown to reduce the appearance of facial redness.
Appropriate for all skin types. 
Product Results 
Clinically shown to reduce visible facial redness with initial results in as early as two weeks*
*Draelos ZD. Three month, single-center, investigator-blinded comparison study of Redness Relief CalmPlex®. Clinical study on file at SkinMedica®.
Key Ingredients
CalmPlex™ (4-Ethoxybenzaldehyde):
This ingredient helps to reduce the appearance of visible redness.
Vitamin B-3 (Niacinamide):
Helps to enhance the barrier function of the skin.