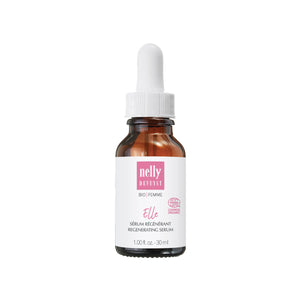 Super moisturizing and regenerating oils to help relieve dryness. Ideal purifying and moisturizing care for the intimate feminine area. Prevents the disequilibrium of the skin flora during menopause.
Concerns & Conditions

The Nelly De Vuyst® Regenerating Serum BioFemme is suitable intimate care and hygiene. Ideal for dry intimate area and for menopausal or pre-menopausal women.
How To Use

For daily use, morning and evening.
Apply using a tissue on the intimate area and directly on the skin of the face, body, hair or nails.
Key Ingredients 
Evening Primrose Oil
Tea Tree Essential Oil

Pine Essential Oil

Palmarosa Essential Oil

Geranium Essential Oil

Thyme Essential Oil

Vitamin E