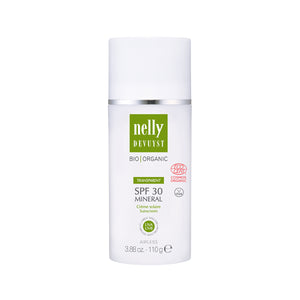 The first translucent mineral anti-aging sun protection that provides broad-spectrum UVA/UVB sun protection to prevent sunburns and offer daily protection against urban and digital pollution. Incredibly lightweight, its ultra-innovative texture melts into the skin with simple massage to envelope the skin in a moisturizing and protective, without leaving a greasy residue or white finish.
Concerns & Conditions

The Nelly De Vuyst® SPF 30 Mineral is suitable for all skin types.
How To Use

For daily use.
Apply a dot of cream every 2 inches on the skin generously and evenly 15 minutes before sun exposure. Reapply at least every 3 hours or after bathing, if perspiring excessively or after using a towel after a shower or bath. Thoroughly cleanse the skin in the evening with the appropriate Nelly De Vuyst® Foaming Cleanser.
Key Ingredients 
Titanium Dioxide 2% (Non-Nano)
Zinc Oxide 18.4% (Non-Nano)

Rooibos Extract

Acmella Oleracea Extract

Bentonite Clay